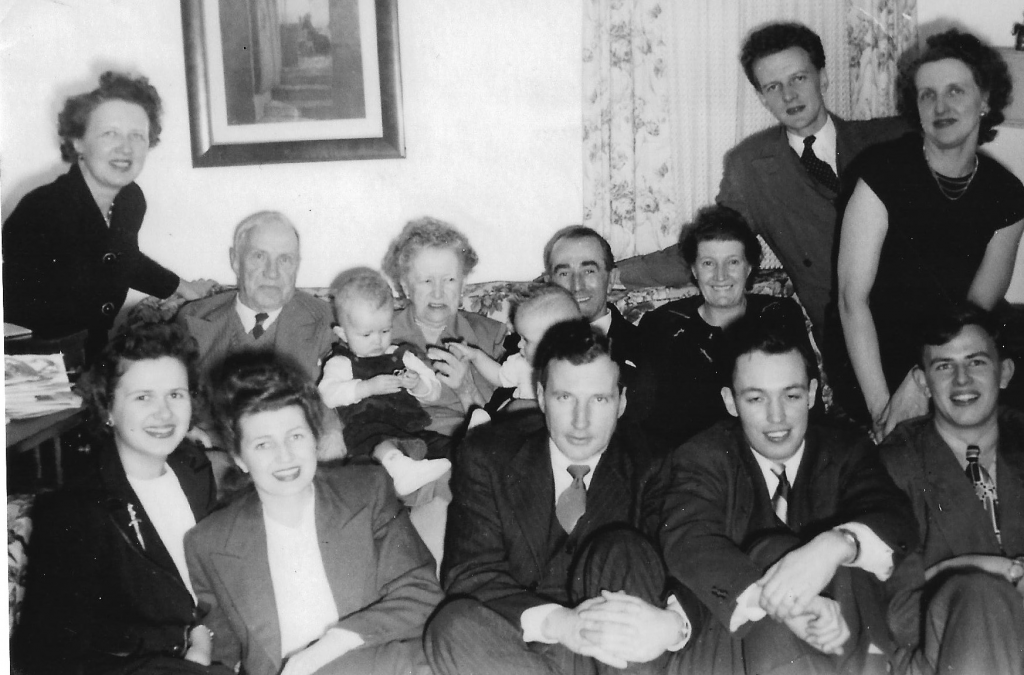 The holidays always get me thinking about family. Here are some of my memories, and I hope you will share some of yours.
I love having everyone to my house to celebrate the holidays, and I think I got in that habit because of the large family gatherings at my grandparents' house when I was a child. My immediate family lived in various cities across the country, but every Thanksgiving and Christmas we went to my grandparents' house in Detroit, also a gathering spot for all the other available relatives.
My grandfather was an amateur photographer with his own dark room in the basement and everything. One thing he loved the most was taking photos of all the relatives who showed up each holiday. I am so glad he was able to preserve these snippets of my history.
The only people who are still alive, pictured here from this Christmas of 1947 are the two babies in the center, me on the right and my cousin, Mike. No one was allowed to wear their eyeglasses in Grandad's pictures, even though everyone here wore them. He didn't want any reflections from the lenses!
My great-grandparents, William and Alexandra, are in the back row center-left. Their oldest daughter, my grandmother, and their youngest of six children, my Uncle Bob, are on either side of the sofa. My mother, far left, is three years older than Bob, so she had a "younger" uncle!
Eileen, next to my mother, married Bob during World War II when he was stationed in London during the bombings. After much fol-de-rol and patience, she was able to immigrate to Canada with her parents who are seated on the right side of the sofa. She was the sweetest woman who always called me on my birthday and left a long delightful message.
My father, second from the right in the front, and my Uncle Bill, on the far right front, were also World War II veterans, but neither of them ever talked about their years during the war.
I remember us gathering around a table set up in the living room to accommodate everyone, and Grandad carving the turkey. He made such a production of it!
Fond memories! I hope you have some to share with me. I'd love to hear your stories!